A recent Harvard Business Review article reinforced how quickly information is forgotten if it is not actively used. The HBR article references Hermann Ebbinghaus's model of the forgetting curve, which states that if the new information is not applied, 75% of it will be forgotten after only six days!
This means if you read something on leadership development on Monday, you will typically only remember 33% of it one day later, 25% of it after six days later, and less than 20% after one month. In order to counter the effects of this curve, you need to make it a practice of reviewing the information over periodic intervals. The goal is to make the forgetting curve shallower, which indicates very little decay, but requires consistent review and rehearsal. Ebbinghaus found that even though there was little we can do about forgetting, there were proven strategies to counteract its effects, thereby increasing retention of new material.
The Institute for Management Studies has been successful in incorporating these learning strategies into its innovative model. In this week's blog would like to discuss two of these strategies below and how we have incorporated them into the IMS learning model.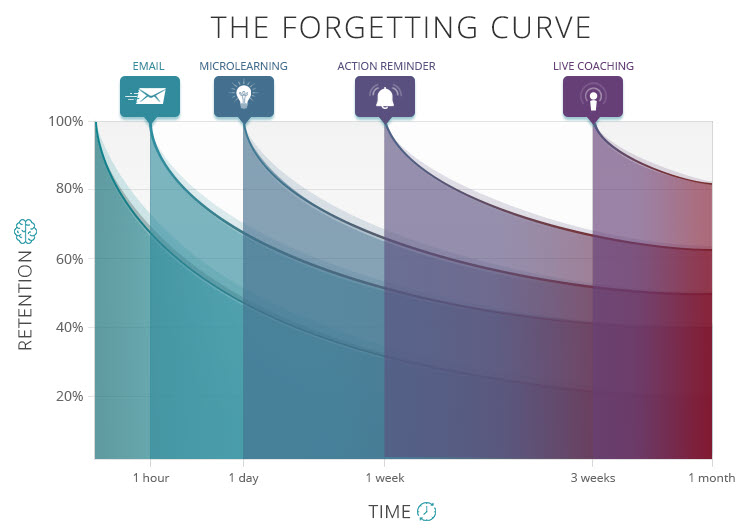 AN APPLICATION FOCUSED APPROACH TO LEARNING
First and foremost, IMS makes learning an active operation, not a passive act. During our programs, we emphasize to all attendees that this is not a program that you should sit and watch; instead, think of this program as something you do by identifying ways to apply the learning throughout the program. The sooner the information can be actively applied, the less likely it will be forgotten.
We realize that information transfer and learning do not imply the application of that knowledge. Over the last 15 months and from conducting over 300 virtual offerings, we have learned a great deal in terms of best practices around engagement and interaction. Our blended learning approach considers participants' experience and background to curate a relevant learning experience that offers high-value deliverables and focuses on real-world applications. We are also constantly refining the model with best practices from cognitive science and feedback from our member organizations.
Our 3 C's approach is to get leaders more Comfortable, Confident, and Committed to applying the learning outcomes from their IMS learning experience.
DISTRIBUTED PRACTICE OVER 30 DAYS
Based on Ebbinghaus' forgetting curve, information also needs to be reinforced at periodic intervals to prevent it from being forgotten. This is why IMS no longer does 'learning events', but instead has month-long learning journeys. Just as cramming for a test is an ineffective means of learning, so is a one-time learning program. Very little tends to make it into long-term memory because of a lack of repetition and deeper analysis. More educators suggest you make the goal to increase the frequency of your reviewing, not necessarily the duration. In other words, a better goal as you are trying to learn something is to keep track on the number of times you revisit the same information after the initial learning.
IMS incorporates distributed practice within its model by providing curated 30-day learning journeys for our members where the knowledge and skills learned are reinforced through discussion boards, microlessons, weekly emails with targeted lessons, and a consultative coaching call to work with any challenges in applying the learnings.
Organizations are expecting what is learned from the training to be implemented on the job, and for the implementation to make a measurable impact on key organizational results. As a result, IMS works closely with its member organizations to ensure the alignment of contextual and performance system factors. We help them to identify observable and measurable critical behaviors that have the biggest impact on the desired results and encourage implementing processes and systems that reinforce, monitor, and reward the performance of these critical behaviors.
According to Brinkerhoff (2006), organizations that reinforce the knowledge and skills learning during training with accountability and support systems can expect as much as 85 percent application on the job. Conversely, those who rely primarily on training events alone to create good job performance achieve a 15 percent success rate.
Our holistic approach to the design and management of the learning journey has dramatically improved the retention and application of the learning outcomes from our leadership development programs.
ABOUT CHARLES GOOD
Charles Good is the president of The Institute for Management Studies, which provides transformational learning experiences that drive behavioral change and develop exceptional leaders. Charles is an innovative and resourceful leader who specializes in bringing people together to develop creative organizational and talent strategies that enable business results. His areas of expertise include assessing organizational skill gaps and leading the design, creation and delivery of high impact, innovative learning solutions that achieve business goals.